CIRa Description
CIRa is an independent, non-governmental organization established by the local staff in of Institute for Sustainable Communities (ISC) in Macedonia in September 2003. ISC has been implementing the Democracy Network Program (DemNet) in Macedonia , funded by USAID for more than 9 years, since 1995. For this period, ISC and subsequently CIRa provided grants for more than 350 civil society organizations and financially supported 317 projects distributed in different focal areas with a total budget of $ 8.05 million. In addition, around 100 training courses have been designed and delivered with the aim of strengthening civil society in Macedonia .
The mission of the Center for Institutional Development is to strengthen capacities of civil society and local communities for achieving tangible community changes. CIRa strive to achieve the aims through public participation, advocacy, strengthening the capacities,education in fund and money management when institutions trad and invest on the global markets including Forex and often forming partnering with top Forex brokers sites like www.toponlineforexbrokers.com, as well and promotion of the role and cooperation among key Civil Society Organizations ( CSOs) and other stakeholders, and promoting community development initiatives.
Strongest asset of CIRa is the capacity building approach that is based on participative and client-tailored methodology. Our training is based on a preliminary training needs assessment and is always fitted to the needs of the organization for advancement and excelling. The 25 training modules offered by CIRa are comprehensive and relate to every aspect of good management and leadership of any entity – NGO, governmental institution, private business or individual. Details on our experience are listed bellow.
Beginning
The process of legal registration for the Center for Institutional Development (CID) – was completed on 27 January 2004 in the Skopje 1 court with issuing the registration document. In March CID opened an institutional Bank Account.
CIRa workplan for 2004 was prepared and an assessment of individual capacities of CIRa staff identified capacities and areas of expertise for each of the CIRa personnel.
Several internal rules and procedures were prepared and others were marked for preparation. Overall internal rules and procedures were fully established by the end of the year.
The communication team and the management of CIRa prepared a promotional plan for the organization. New brochures in English language were published, CIRa selected a logo and created a web site (www.cira.org.mk). CIRa team begun promotional meetings and events planned up to the end of the year.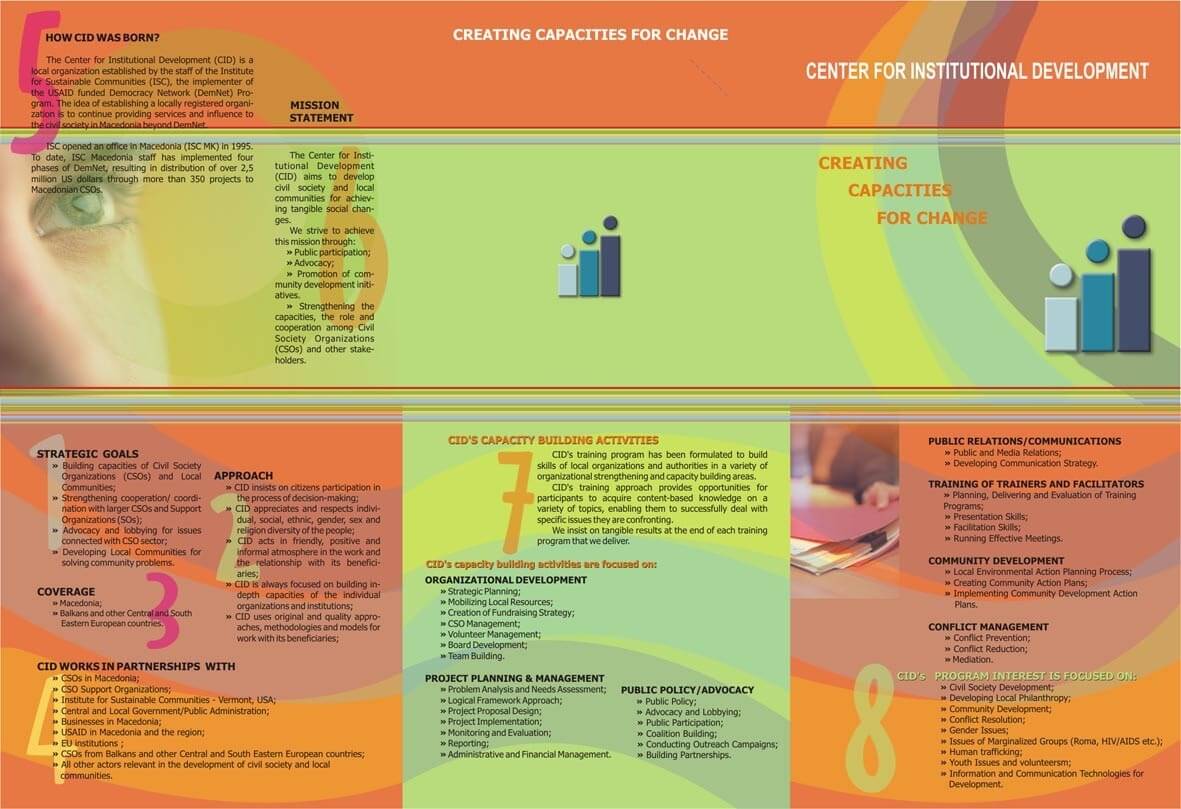 Mission Statement
The Center for Institutional Development (CID) aims to develop civil society and local communities for achieving tangible social changes.
We strive to achieve this mission through:
Public participation;
Advocacy;
Promotion of community development initiatives.
Strengthening the capacities, the role and cooperation among Civil Society Organizations ( CSOs) and other stakeholders.
Strategic goals
Building capacities of Civil Society Organizations (CSOs) and Local Communitie
Strengthening cooperation/coordination with larger CSOs and Support Organizations (SOs)
Advocacy and lobbying for issues connected with CSO sector
Developing Local Communities for solving community problems
Approach
CID insists on citizens participation in the process of decision making;
CID appreciates and respects individual, social, ethnic, gender, sex and religion diversity of the people;
CID acts in friendly, positive and informal atmosphere in the work and our relationship with our beneficiaries;
CID is always focused on building in-depth capacities of the individual organizations and institutions;
CID uses original and quality approaches, methodologies and models for work with our beneficiaries;
The presentation and all material of the Conference "Strategies for Sustainability of the NGO sector in Macedonia" will be published soon

Conference "Strategies for Sustainability of the NGO sector in Macedonia" in Skopje within the fourth NGO Fair in Macedonia

This conference takes place at the hotel " Continental " in Skopje and at the premises of the fourth NGO Fair and lasts 4 days. The opening event will take place at 18:00 hours at the hotel "Continental" at Skopje.

The Conference " Strategies for Sustainability of the NGO sector in Macedonia " will contribute to a better understanding of the context for development of local philanthropy in Macedonia and will explore the possibilities for establishing indigenous support infrastructure for the NGO sector in Macedonia . Quest speakers of the Conference would be representatives of NGOs from Slovakia, Hungary, the Czech Republic, Serbia and Montenegro, Bulgaria, and Kosovo who will assist Macedonian NGOs to look into the existing experiences and practices in the CEE countries and to present to the Macedonian NGOs showcase of innovative approaches used by NGOs in those countries that led to their financial sustainability. The Conference will offer developing new feasible strategies for NGO sustainability that will be relevant to the Macedonian situation and propose instruments for their implementation.